Unveiling the Future of Construction: Navigating Fiscal Measures, Sectoral Trends, and Job Growth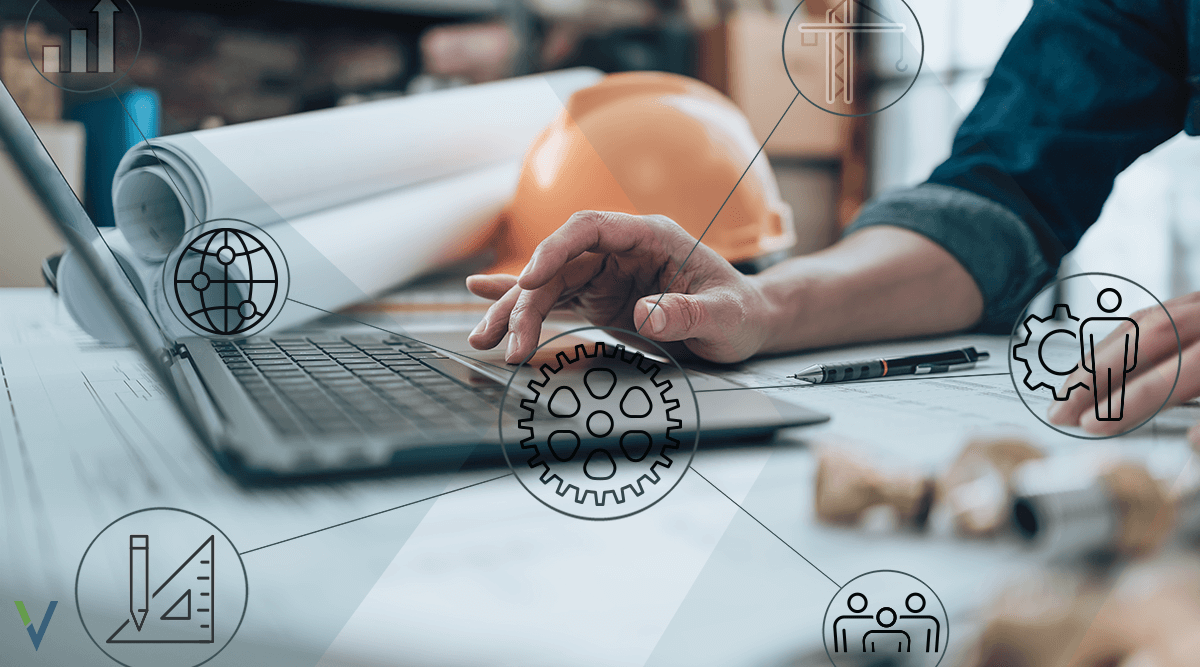 Fiscal Measures
The construction industry stands as a vital pillar of economic growth and development, driving infrastructure projects, and providing employment opportunities. To thrive in this ever-evolving sector, construction professionals must stay abreast of fiscal measures, sectoral trends, and job growth projections. In this extensive white paper, we will explore key insights related to mechanical and electrical contractors, bid price volatility, sectoral contributions, job growth statistics, and the changing landscape of the construction industry. By understanding and analyzing these factors, businesses can make informed decisions, harness opportunities, and overcome challenges that lie ahead.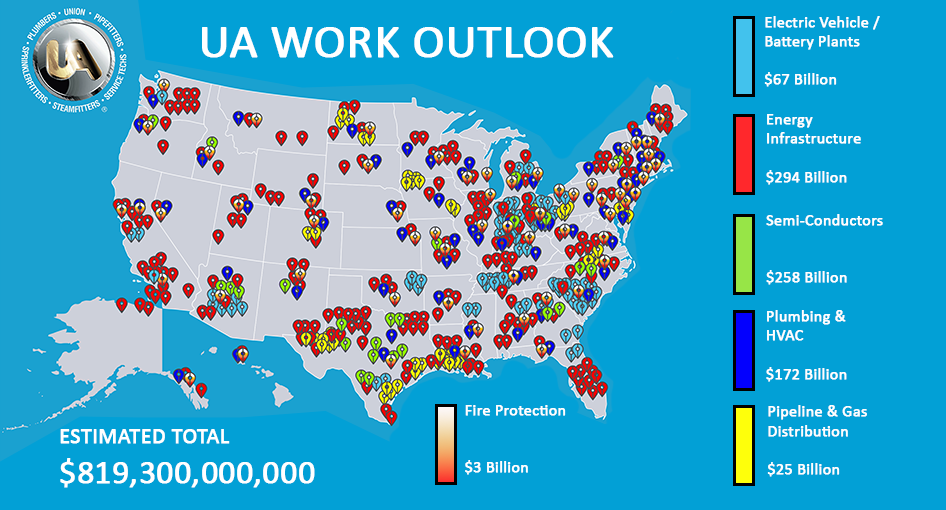 Within the mechanical and electrical contractor trades, bid prices have been experiencing significant upward volatility in recent times. This volatility poses challenges for project estimation, procurement, and profitability. To safeguard against potential cost escalations and ensure project viability, it is essential for construction companies to incorporate large bidding contingencies. By accounting for potential price fluctuations, businesses can better manage risks and secure their financial well-being.
US Job Creation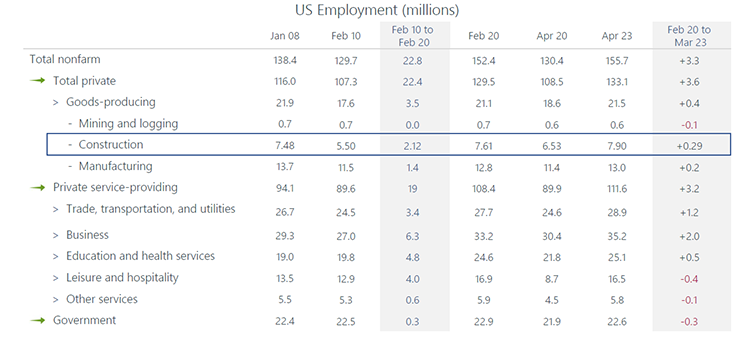 Job growth serves as a key indicator of the overall economic health and vitality of various sectors. Stepping back and examining the overall economy, it becomes evident that construction, manufacturing, transportation, utilities, education, and health sectors have been strong contributors to job growth since the pre-pandemic era. Out of the 3.3 million new jobs created, a remarkable 2.2 million have been generated across these sectors, underscoring their resilience and their pivotal role in driving economic recovery.
US Construction Employment (thousands)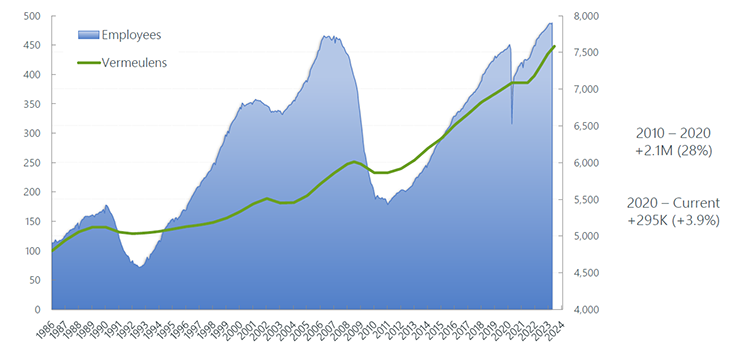 Isolating the construction sector, we witness robust job growth that surpasses pre-pandemic levels by approximately 300,000 positions. This surge in construction employment showcases the industry's ability to adapt and respond to changing circumstances, reaffirming its importance in generating employment opportunities and fostering economic stability.
US Construction Volume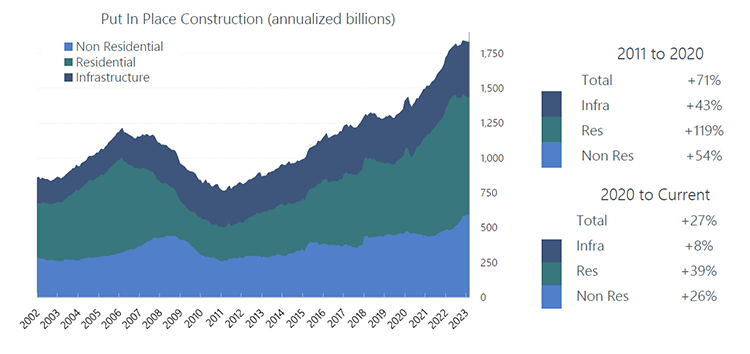 The construction industry is experiencing notable shifts in dollar volumes across different sectors. Residential construction, while traditionally a strong contributor, has witnessed a decline in recent times. This decline can be attributed to tight credit conditions and higher interest rates, leading to a decrease in residential volumes.
US Construction Volume – Sector Breakout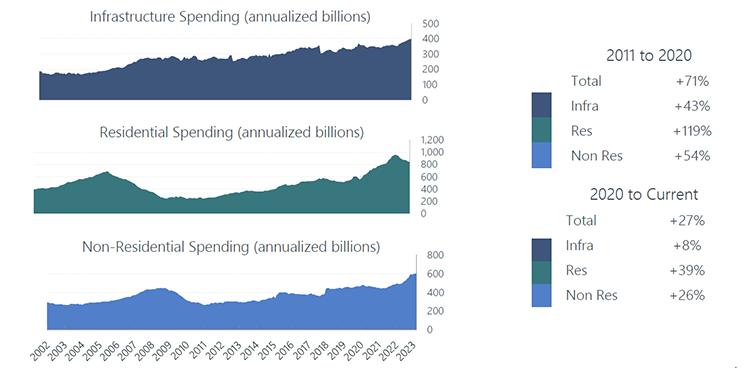 deeper analysis of future spending projections reveals three sectors that will be key drivers of construction expenditure in the coming years. Electric vehicle/battery plants are expected to contribute to the manufacturing/industrial sectors, energy infrastructure projects will fuel growth in the power and infrastructure sectors, and the manufacturing/industrial sectors will witness significant investments in semi-conductor manufacturing. While these sectors bear the brunt of the projected spending, funds will also be distributed across various other construction sectors, shaping the overall landscape of the industry. Conversely, the non-residential and infrastructure sectors have witnessed significant growth, especially in the past few months.
US Construction Volume – Total Non-Residential Spending
The following graph demonstrates the total non-residential surge over the last two quarters.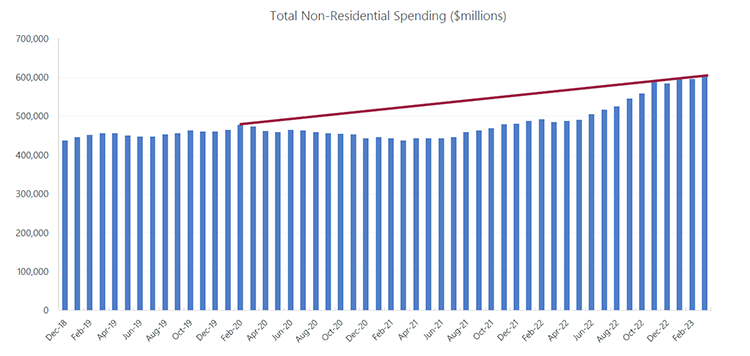 US Construction Volume – Non-Residential Spending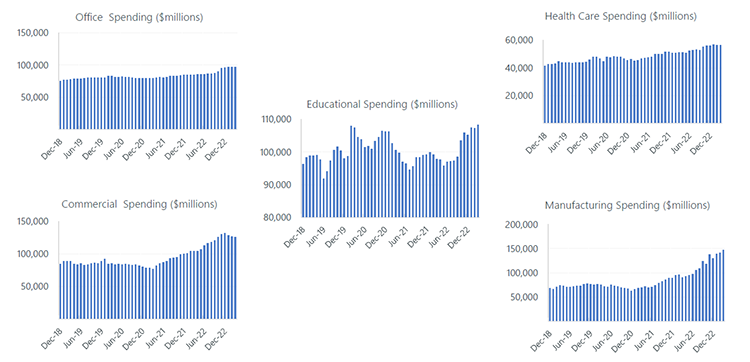 When we delve deeper into the non-residential sector, we observe substantial upward movements in key sub-sectors, including office, commercial, educational, and manufacturing. This surge can be attributed to the expansion of electric vehicle/battery plants and semi-conductor fabrication plants within the manufacturing sector. These investments drive technological advancements, sustainable practices, and economic growth.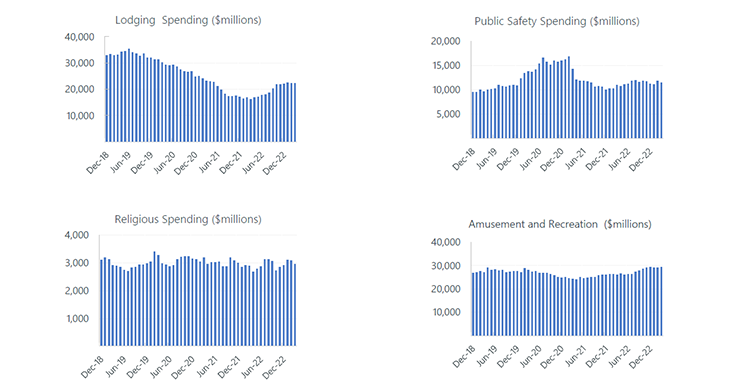 Manufacturing has experienced noteworthy growth, with volume doubling since the pre-pandemic period.
Total Non-Residential and Infrastructure Spending Growth from Pandemic Lows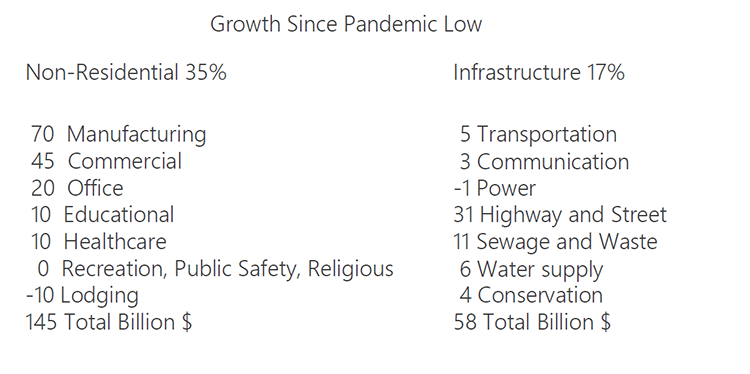 Looking at the non-residential sectors, we witness a remarkable growth trajectory in construction volume, exceeding $200 billion since the pandemic lows. This growth highlights the crucial role played by these sectors in shaping the future of the construction industry.
Notably, the mechanical and electrical trades heavily rely on these sectors, especially when certain segments, such as office construction, predominantly involve renovation spending rather than new construction.
While most sectors experience growth, the power sector remains relatively static. The power sector encompasses conventional and renewable energy plants, distribution systems, as well as facilities associated with oil, gas, and nuclear energy. The stagnation observed in the power sector raises questions and necessitates a deeper analysis of the underlying factors contributing to its anomaly.
In the ever-changing landscape of the construction industry, staying informed about fiscal measures, sectoral trends, and job growth statistics is crucial for businesses to thrive. Incorporating large bidding contingencies can help mitigate risks arising from bid price volatility, ensuring project viability and profitability.
Key sectors such as electric vehicle/battery plants, energy infrastructure, and semiconductors present significant opportunities for construction companies to capitalize on. By carefully evaluating market dynamics, adapting strategies, and fostering partnerships, businesses can position themselves at the forefront of industry advancements and secure long-term success.
While the residential construction sector faces challenges, the non-residential and infrastructure sectors are experiencing remarkable growth, driven by office, commercial, educational, and manufacturing projects. By harnessing these opportunities, construction companies can contribute to economic growth, job creation, and sustainable development.
To gain deeper insights into the future of the construction industry, we encourage you to watch the recording of the Design and Construction Market Outlook Forum held on May 24, 2023. By staying informed, leveraging industry expertise, and embracing innovation, businesses can navigate the complexities of the construction sector and unlock a prosperous future.
To watch the forum recording of this segment, visit Design and Construction Market Outlook Forum May 24, 2023.